Finnish Forest Industries Federation Says Potential 14-Day Labor Strike Could Cost Pulp and Paper Mills Nearly EUR 640 Million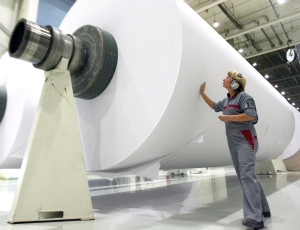 If all the strikes announced by the Paper Union start Jan. 27, the entire forest industry would be paralyzed for two weeks as the strikes would affect 110 mills and companies.
Editor's note: The following press release was translated from Finnish to English through a translation program. The original release was published only in Finnish by the Finnish Forest Industries Federation.
Jan. 20, 2020 (Press Release) - The Finnish Forest Industries Federation considers it highly likely that the strike threatening the mechanical forest industry's sawmills and plywood mills within a week will materialize. Negotiations on new terms and conditions of employment with the threatening strike industry have hardly progressed.
"The [Paperiliito (Paper Union)] does not seem interested in genuine negotiations and agreement. It strives for a consistent package solution across all export sectors, and does not realize that the federation round is intended to agree on industry-specific terms of employment," estimates Jyrki Hollmén, Director of Labor Market at the Finnish Forest Industries Federation.
The Finnish Forest Industries Federation has a negotiating relationship with the Paper Workers' Union, which represents workers in the paper, board and pulp industry. Negotiations have also taken place over the weekend and will resume on Monday (Jan. 20). On Tuesday, the parties will meet with the national mediator.
"There is no solution yet, and very damaging strikes are threatening the industry. There are a lot of open things on the table," Hollmén continues.
The global competitiveness of the paper, board and pulp industries and their potential for improving productivity should be supported by wage moderation, working time solutions and the launch of a comprehensive reform aimed at simplifying working time and pay patterns. The additional costs of collective bargaining for downtime and outsourcing should be made similar to other export industries.
At least hundreds of millions lost
If all the strikes announced by the Industrial Union and Trade Union Pro start [Jan. 27], the damage could be huge. The entire forest industry would be paralyzed for two weeks, as the strikes would affect 110 mills and companies.
Strikes would result in widespread loss of production and longer-term competitive disadvantages. Losses in production would be the result of factory closures and production cuts, longer-term competitive disadvantages due to supply problems, loss of customer confidence and potential customer losses, and, more broadly, strengthening Finland's reputation as a strike-sensitive and labor-unstable country.
Loss of production in the entire forest industry could amount to almost EUR 1 billion over a 14-day strike. Strikes in the mechanical forest industry could lead to an estimated loss of EUR 270 million and the paper, board and pulp mills to almost EUR 640 million. The estimates are based on Statistics Finland's data on the value of gross industry output in 2018, when the economic cycle was good.
A paralysis of forest industry exports for 14 days would mean that Finland could lose up to EUR 500 million in export earnings. Paper and board products are Finland's most important export product, and the value of forest industry exports, according to Customs statistics, is over EUR 13 billion annually.
Strikes would also result in tax losses for society as a whole. The lost direct tax revenue from the forest industry in two weeks is approximately EUR 47 million. Further losses would come from other parts of the value chain, as strikes would affect the entire forest sector from the timber trade to transportation.
With irresponsible strikes, trade unions take control of all Finns — and especially their own members.
"After such losses, it is certain that the salary increase reserve will only decrease. In addition, strikes that drastically affect profitability, significantly weaken the ability to maintain industrial jobs in Finland," Hollmén says.
The Finnish Forest Industries Federation (FFIF) is a lobbying organization made up of 77 member companies that operate in the pulp, paper, paperboard, and packaging industries as well as in the wood products industry in Finland. Its goal is to ensure that Finland offers a competitive and innovative operating environment for forest industry production, employment, and investments. To learn more, visit: www.forestindustries.fi
SOURCE: Finnish Forest Industries Federation
Go to a related story from the Helsinki Times: Industrial Union, Paper Workers' Union announce strikes amid stalled talks.