ANDRITZ to Supply Pulping Equipment to Bracell's Mill Expansion Project in Sao Paulo, Brazil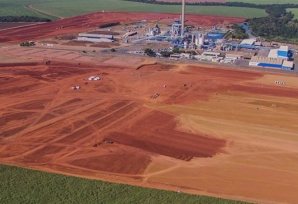 Bracell's 'Project Star' site in Lencois Paulista, in the state of Sao Paulo, Brazil. Bracell is in the process of increasing the production of dissolving pulp at the mill by 1,250,000 tons per year.
Dec. 19, 2019 - ANDRITZ has received an order from Bracell to supply energy-efficient and environmentally friendly pulp production technologies and key process equipment for Bracell's "Project Star" in Lencois Paulista, in the state of Sao Paulo, Brazil.
The value of the order was not disclosed.
Bracell's Project Star is a large-scale expansion project that will increase the pulp mill's current production capacity of 250,000 tons per year (tpy) of dissolving pulp by an additional 1,250,000 tpy to reach 1.5 million tpy. Work on the expansion has already begun.
ANDRITZ will provide four of the six most important process islands in the pulp mill, which are to be supplied on EPCC (Engineering, Procurement, Construction and Civil Construction) basis:
A complete Wood Processing Plant
An ANDRITZ HERB Recovery Boiler with high steam parameters of 101 bar(a) and 515°C to maximize power generation.
Environmentally friendly hardwood Fiber Lines that ensure low-effluent emissions, can produce both kraft and dissolving pulp, and which also include a chip feed system, LoSolids continuous cooking system with Pre-Hydrolysis Vessel (PHV), screen room and bleach plant.
A new innovative EvoDry Pulp Drying System with energy-efficient pulp drying.
Start-up is scheduled for the third quarter of 2021.
ANDRITZ Pulp & Paper is a global supplier of equipment, systems and services for the production and processing of all types of pulps, paper, tissue, and board. To learn more, please visit: www.andritz.com
SOURCE: ANDRITZ and Bracell