ABB Donates Software Licensing and Automation Expertise to Sappi Skills Centre in South Africa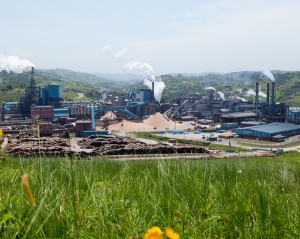 Sappi's Saiccor Mill, situated 50 km south of the port of Durban in the province of KwaZulu-Natal, South Africa, produces elemental chlorine free (ECF) dissolving wood pulp (DWP), mostly for the export market.
Oct. 22, 2019 - ABB is donating software solutions and pulp and paper automation expertise to the Sappi Skills Centre, based in Umkomaas, South Africa, near Sappi's Saiccor Mill, which produces dissolving wood pulp. The donation supports the Skills Centre, which was established by Sappi in 2018 to equip local youth with the basic technical skills needed to prepare them for meaningful employment.
The automation training system at the Sappi Skills Centre will be comprised of an Ability™ System 800xA distributed control system (DCS), which will enable employees and members of the local community to receive training on a simulated version of the production control system. It will include a fully functional 800xA DCS, as well as field instruments, I/O cabinets and I.T. equipment.
The ABB contribution to this system includes licensing for ABB Pulp and Paper Libraries and Field Information Manager as well as a training cabinet for Select I/O, ABB's ethernet-based single channel I/O solution for ABB Ability System 800xA. ABB will also assist with design, engineering and configuration of the system and provision the basic simulation software and automation training services.
"We are honored to help Sappi address skills gaps in the community and work together to train the next generation of South African pulp and paper technicians," said John Manuell, Local Business Line Manager for South Africa, ABB Process Industries. "Skills development will lead to safer operations and higher productivity as well as providing the local community with greater employment opportunities."
Krish Naidu, Saiccor Mill General Manager, explained, "Our goal with the Sappi Skills Centre is to develop a learning campus that empowers the Umkomaas community with skills that will enable them to find meaningful employment or build their own enterprises. ABB's donation enables us to expand our training offer to encompass the digital skills required for the modern pulp and paper industry and helps us fulfill our vision of sustainable community development."
ABB is a pioneering technology leader with a comprehensive offering for digital industries. To learn more, please visit: wwww.abb.com.
SOURCE: ABB