Nippon Paper to Acquire Paperboard Packaging Business of Orora Limited in Australia and New Zealand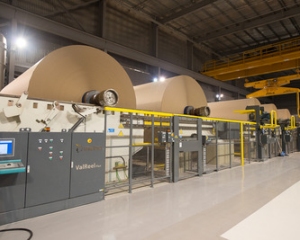 Installed in 2012, the B9 paper machine at Orora's Botany paper mill in Matraville, New South Wales, Australia, produces almost 400,000 tonnes of recycled containerboard grades per year. B9 uses 100% recycled fiber from domestic containerboard and mixed waste.
Oct. 10, 2019 - Nippon Paper Industries announced that it has signed an agreement with Orora Limited to purchase Orora's paperboard fiber-based, packaging business in Australia and New Zealand (the "Business") for an enterprise value of AUD1.72 billion in cash, subject to adjustment for movements in working capital and debt items.
The scope of the Businesses includes Orora's Botany Paper Mill in Matraville, New South Wales, Australia, along with fiber converting, specialty packaging, cartons, bags, functional coatings and Orora WRS packaging distribution.
The final structure for purchasing the Business, which involves Nippon Paper's consolidated subsidiary Paper Australia Pty Limited ("AP", headquartered in Melbourne, Australia) will be confirmed in due course.
In a written statement, Nippon paper said, "Nippon Paper Group is promoting packaging, household paper products/health care, chemicals, energy and logs & lumber business as five key growth areas. Supported by recent trends recognizing the environmentally-friendly nature of paper as a renewable material, Nippon Paper has been exploring opportunities to expand its value chain from base paper to processing as well as to expand business in Japan and abroad through capital investment and M&As.
"Orora has established strong operations in Australia and New Zealand through a comprehensive business model combining a wastepaper collecting system with cutting-edge corrugated base paper manufacturing, highly automated cardboard production and the provision of packaging-related materials and associated services. The company split from world-leading packaging company, Amcor Plc. in 2013, and is a customer of Nippon Paper Group's subsidiary AP which was acquired in 2009 after. The two companies have a long-standing successful business relationship based on the supply of kraft linerboard and bag and sack papers.
"Through the acquisition of the Business, Nippon Paper Group will be entering the integrated corrugated paperboard manufacturing business in the Oceania region. Nippon Paper seeks not only to augment the synergistic effects with AP, but also plans to further build the Group's packaging business on a global scale," Nippon Paper concluded.
Nippon Paper plans to fund the deal through a bridge loan from Mizuho Bank, which will be re-financed by loans from financial institutions, issuing of bonds and hybrid financing and does not expect to fund through the issuance of shares (equity financing).
The purchase of the business is subject to final approval from the relevant authorities and other closing conditions, and is expected to be completed on January 31, 2020.
Nippon Paper Industries produces coated and uncoated paper, including specialty grades, and paperboard. To learn more about Nippon Paper Industries, please visit: www.nipponpapergroup.com.
SOURCE: Nippon Paper Industries