Georgia Ports Authority Announces Expansions, to Double Capacity at Garden City Terminal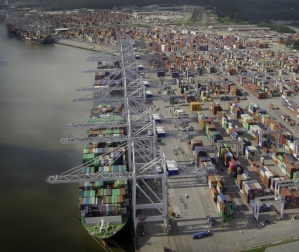 The Georgia Ports Authority plans to double capacity at Garden City Terminal to 11 million twenty-foot equivalent container units per year.
Sept. 13, 2019 - In the fiscal year that ended in June, the Georgia Ports Authority (GPA) achieved record volumes in containers, total tonnage and cargo moved by rail. At 4.5 million TEUs, the Port of Savannah grew its containerized trade by 7.3 percent, or 305,000 TEUs. Total tonnage reached 37.5 million, up 1.5 million tons or 4.2 percent. The port handled 507,000 intermodal boxes, up 73,000, or 17 percent compared to the previous year.
"The market has clearly chosen the Port of Savannah as the Southeastern hub for containerized trade," said GPA Executive Director Griff Lynch. "To fulfill the growing responsibility placed on our deepwater terminals, we have developed a plan to double our capacity."
Speaking to an audience of nearly 1,400 at the Savannah State of the Port, Lynch announced expansions that will bring the Port of Savannah's annual capacity to 11 million TEUs, up from the current capacity of 5.5 million TEUs per year. The Authority plans to expand beyond its 1,200-acre footprint at Garden City Terminal to establish a new container port on Hutchinson Island, across the Savannah River channel. The 200-acre Georgia site sits directly across from Ocean Terminal in Savannah. It will have an annual capacity of 2.5 million TEUs.
Lynch said the influx of cargo crossing Savannah's docks is also driving an extraordinary level of development from private investors. In FY2019, developers added 10.75 million square feet of industrial space in the Savannah market for a total of 67.7 million square feet, an increase of 19 percent.
Upcoming terminal enhancements include:
In 2020, Garden City Terminal will receive six additional ship-to-shore cranes, bringing its fleet to 36, more than any other terminal in North America. Lynch said GPA plans continual upgrades to its crane fleet, which will include 12 new cranes with a lift height of 170 feet by 2027.
Within three years, the GPA plans a berth realignment to allow docking for more 14,000-TEU vessels on the downriver end of Garden City Terminal. By 2027, the additional cranes, revamped dock space and a new Hutchinson Island terminal will allow the Port of Savannah to significantly increase big ship capacity.
Additionally, the U.S. Army Corps of Engineers is now in the final phase of the Savannah Harbor Expansion Project. The Corps is expected to issue contracts this year to dredge the inner harbor, which makes up the final half of the deepening.
Dual Rail Service
To handle the growing container trade crossing Garden City Terminal and to attract additional business, the GPA is expanding its rail infrastructure and offerings. At Thursday's event, Lynch introduced dual rail service from the Port of Savannah to Chicago, with cargo reaching the Windy City in less than three days.
"Our expanding offerings with Norfolk Southern and CSX to the Midwest will be a game changer in the growth of cargo at the Port of Savannah," Lynch said. "We're now moving containers from ship to departing rail in only 24 hours — two and a half times faster than our previous schedule — which makes Savannah competitive on time and lower on cost compared to traditional cargo routings."
GPA Board Chairman Will McKnight said to accommodate increasing rail demand, the Authority is in the midst of a $220 million expansion of its on-terminal rail infrastructure at the Port of Savannah.
"The Mason Mega Rail Terminal will be the largest on-dock rail facility at any port in North America," McKnight said. "It will allow the Authority to shift more of its cargo mix from truck to rail, so that we can grow our overall volumes without congestion at our truck gates.
Construction on Phase I of GPA's Mason Mega Rail Terminal will be complete in the spring, with a grand opening slated for March 2020. When Phase II opens in late 2020, the project will double the Port of Savannah's rail lift capacity to 1 million containers per year.
Georgia's deepwater ports and inland barge terminals support more than 439,000 jobs throughout the state annually and contribute $25 billion in income, $106 billion in revenue and $2.9 billion in state and local taxes to Georgia's economy. To learn more, please visit: gaports.com.
SOURCE: Georgia Ports Authority