Recycling Experts Say Fiber is Still the Elephant in the Room
By Colin Staub, Staff Writer, Resource Recycling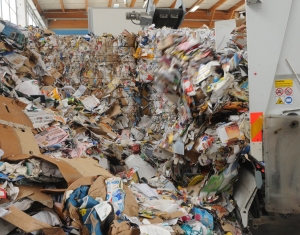 Over the long run, mixed paper is making up a smaller percentage of all recovered fiber consumed in the U.S. In 2009 it was slightly more than 14%, and by 2018 it had dropped to just more than 12%.
Sept. 10, 2019 (Resource Recycling) - MRF operators, brokers and others recently discussed why fiber is still "the elephant in the room" in municipal recycling conversations.
During a recovered fiber session at the 2019 Resource Recycling Conference and Trade Show in New Orleans, stakeholders from throughout the paper recycling sector discussed where the market is and where it's headed.
Fiber is the "elephant in the room" as far as the value of the residential mix that municipalities receive, said Dave Claugus, vice president of Pacific Northwest MRF operator Pioneer Recycling Services.
The session featured experts from the American Forest & Paper Association, Gemini Corporation, the Continuous Improvement Fund, Sustana Fiber and Pioneer Recycling Services. It was moderated by Mick Barry of Mid-America Recycling.
Why the fiber focus?
Paper is the "main event" at a MRF, said Claugus. In the Pacific Northwest, paper makes up 75% of the material that comes onto the tip floor Monday through Friday.
"That means that paper moves the price of whatever the processor can pay or needs to charge the municipality," Claugus said.
For example, if paper moves by $10 per ton, it is going to influence the combined value of recyclables by $7.50 per ton. If PET moves by $10 per ton, on the other hand, that would influence the combined value of the recycling stream by just 25 cents per ton due to its smaller volume in the stream.
Claugus argued there is an inelastic supply of recycled paper at the MRFs, meaning the supply does not respond to price and is relatively fixed.
"The generators of this material are totally disconnected from price. They have no price signal and so they don't respond," he said. This dynamic represents a "huge change" from when Claugus got started in the industry 40 years ago, he added, and the inelasticity has "profound" implications for the pricing of the material.
Under this dynamic, "when you have a shift in demand you're not sliding gently down a supply curve, you're falling off a cliff, and that's why the pricing for recycled materials are so volatile," he said.
Claugus also offered his opinion that volatility is the norm in the pricing of recyclables and that stability is the exception. And recognizing these realities, he said, is key to making sustainable recycling contracts.
"This is huge; everybody needs to understand this," he said. "It should be part of your thinking as you approach any kind of contract renegotiation whether you're a MRF or a municipality."
Mixed-paper market snapshot
China's import restrictions heavily impacted mixed paper, as the country went from taking hundreds of thousands of tons per year to buying virtually none.
Brian Hawkinson of the American Forest & Paper Association (AF&PA) detailed the domestic mixed-paper market, which has received much attention in the wake of the overseas restrictions.
Over the long run, mixed paper is making up a smaller percentage of all recovered fiber consumed in the U.S. In 2009 it was slightly more than 14%, and by 2018 it had dropped to just more than 12%.
"The biggest by far, of course, is OCC," Hawkinson said, noting that grade makes up about 71% of all recovered fiber consumed in the U.S.
Mixed paper finds two main end markets in the U.S. Recycled paperboard claims 39% of the mixed paper that moves to market in the U.S., and another 37% goes into containerboard. The tissue market takes 19% of the mixed paper, and the remaining 5% goes into construction applications and other paper product grades. This is much different than a decade ago, when packaging was a smaller percentage.
The mixed-paper export market has also shifted dramatically over the past decade, and not just because of the turbulence over the past two years.
Citing U.S. Census Bureau data, Hawkinson showed that mixed-paper exports dropped substantially in 2010 concurrent with the U.S. economic downturn. That year alone, exports dropped from more than 7.5 million short tons to less than 5 million. Exports remained pretty stable between 4 and 5 million tons per year until 2015, when they started a downward slide that continued through 2018.
Details on the largest new market
Export destinations for recovered fiber have shifted dramatically, as well. India has become the current largest buyer of U.S. recovered fiber, and an expert says it is poised to be a strong market for the material moving into the future.
There are around 700 mills and that volume is growing, said Shailesh Gothal of Gemini Corporation, which brokers recyclables. Those mills are relatively small in size, with a typical Indian mill having a capacity of 100 to 250 metric tons per day, he said.
"But all in all, it is helping whatever China is not taking; India is trying to take a little bit more and help paper recycling," he said.
Of the Indian paper mills, 65% are dependent on . . .
The complete story is available on Resource Recycling's website: resource-recycling.com/recycling.
SOURCE: Resource Recycling