Long Falls Paperboard to Use Federal Grant to Study Use of Biomass Co-Generation Plant
By Anne Wallace Allen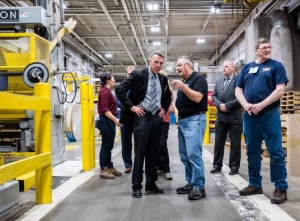 Vermont Governor Phil Scott recently visited Long Falls Paperboard in Brattleboro, Vermont. The mill is a manufacturer, coater and converter of specialty fiber-based paperboard for applications in the records retention, archival storage, premium packaging, and technical/industrial markets.
Sept. 10, 2019 (VTDigger) - Long Falls Paperboard, the company that this year bought the former Neenah Paper Inc. plant in Brattleboro (Vermont), is using a $1 million federal grant to study using wood biomass instead of the natural gas that is delivered to the factory in trucks every day.
Brattleboro Development Credit Corp. (BDCC) will use the $1 million grant from the Northern Border Regional Commission to study the feasibility of building a biomass co-generation plant over the next 18 months, said Adam Grinold, executive director of the nonprofit economic development organization.
BDCC — which owns the plant and leases it to Long Falls Paperboard (LFP) — has worked very closely with LFP since before the Washington-based company purchased the business and equipment in January. Neenah announced last year that it planned to close and liquidate the paperboard plant, putting 100 people out of work. BDCC worked with LFP to obtain loans from the Vermont Economic Development Authority and People's United Bank; secured training and other grants from the state; and worked with a variety of other local entities to help LFP lease the property and keep the business running.
For the biomass plant project, LFP will probably need to borrow between $14 million and $22 million, Grinold said.
"They knew they needed to address their utility costs coming into this deal," said Grinold. "They are one of the few firms in southern Vermont that truck in natural gas."
The complete story is available on VTDigger's website: Biomass could replace natural gas at Brattleboro paper board factory. - Sept. 5, 2019.
SOURCE: VTDigger
To learn more about Long Falls Paperboard, please visit: www.longfallspaperboard.com.