UPM Appoints Hanna Maula as Vice President, Communications and Brand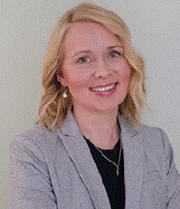 Hanna Maula
June 19, 2019 - UPM has appointed Hanna Maula, DSc (Econ) as Vice President, Communications and Brand, effective August 1. Her predecessor, Elisa Nilsson, is entering retirement as of September.
For the past few years Maula has acted as consultant and entrepreneur for communications and strategy in Silicon Valley. She has previous experience from leading communications organizations at Aalto University and Neste Corporation. Her research has focused on communications, leadership and strategy as well as strategies for the digital era.
Maula will be a member of UPM's Stakeholder relations management team reporting to Pirkko Harrela, Executive Vice President, Stakeholder relations.
Through the renewing of the bio and forest industries, UPM is building a sustainable future across six business areas: UPM Biorefining, UPM Energy, UPM Raflatac, UPM Specialty Papers, UPM Paper ENA and UPM Plywood. To learn more, please visit: www.upm.com
SOURCE: UPM