Port Townsend Paper Plans to Increase Use of Recycled Fiber, Reduce Water Usage, with New Pulper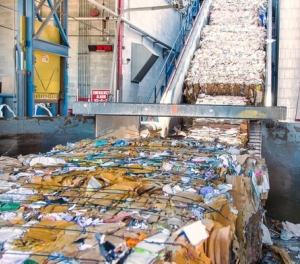 June 10, 2019 (The Leader) - The Port Townsend Paper Corporation aims to increase its intake of recycled cardboard, while also reducing its consumption of fresh water by close to a million gallons per day.
Both improvements are tied to the planned replacement of the company's Old Corrugated Container pulper, which is 22 years old, scheduled for this fall, but not before the public comment period expires June 28.
Kevin Scott, General Manager of the paper mill just outside of Port Townsend, recently took The Leader on a tour of the facilities, during which he outlined the goals for the replacement pulper.
According to Scott, the new machine should allow the paper mill to go from producing 400 tons of cardboard pulp a day to a maximum average capacity of 800 tons a day, without requiring significant changes to the plant's footprint or its material processing equipment.
"We're currently running on about 40% recycled fiber," Scott said. "This lets us go up to about 60%."
Scott said the ability to use more recycled cardboard will make the mill less dependent on virgin wood fiber, "which improves our environmental stability and our economic viability."
The full story is available on The Leader's (Port Townsend) website: Mill to recycle more, use less water.
SOURCE: The Leader