ND Paper Receives $1.7 Million in Tax Credits for Biron Division Expansion in Wisconsin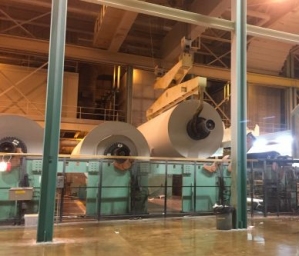 ND Paper's Biron mill, located in Wisconsin Rapids, Wisconsin, operates two paper machines that collectively have the capacity to produce about 340,000 tonnes per year of coated groundwood papers. The mill employs around 350 people.
May 28, 2019 - The Wisconsin Economic Development Corporation (WEDC) on May 22 announced an agreement to provide ND Paper with $1.7 million in tax credits over three years to support the company's expansion at its Biron division — a project expected to create 27 new jobs.
ND Paper, a U.S.-based subsidiary of Nine Dragons Paper, is planning several major projects, including the conversion of the B25 paper machine from white papers to containerboard products, construction of a two-line greenfield recycled pulp facility and the construction of a water treatment and fiber recovery plant.
"ND Paper's choice to invest here in Wisconsin shows the company's continued commitment to our state and their workforce," said Mark R. Hogan, secretary and CEO of WEDC, the state's lead economic development organization. "These initiatives will require a significant capital investment on the part of the company and WEDC is proud to provide support to make this a viable project for ND Paper."
"We are extremely grateful for the support of WEDC and the State of Wisconsin," said Ken Liu, ND Paper's group deputy chairman and CEO. "These strategic investments not only create 27 new positions, but also preserve the jobs of our existing workforce of well over 300 hardworking employees. Our vision is to transform the Biron division into a world-class facility that is sustainable for the next 100 years."
The actual amount of state income tax credits the company receives is contingent upon the number of jobs created and retained, and the amount of capital investment the company makes through 2022. As is the case for all WEDC tax credits, ND Paper must first create the jobs and make the capital investment before receiving any credits.
In addition to the 27 jobs expected to be created by ND Paper, an economic modeling study estimates the project could indirectly generate 31 additional jobs in the region.
SOURCE: Wisconsin Economic Development Corporation