ANDRITZ to Supply Xuan Mai Paper with New Tissue Machine in Vietnam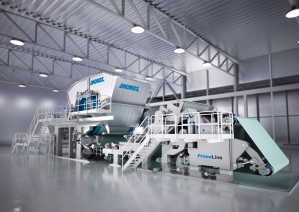 ANDRITZ will deliver a new tissue machine with two stock preparation lines to Xuan Mai Paper in Vietnam. The new line will produce of high-quality tissue grades made of either 100% virgin or 100% deinked pulp.
May 21, 2019 - ANDRITZ has received an order from Xuan Mai Paper Co. Ltd. to supply a PrimeLineECO tissue machine for its mill in Ho Chi Minh City, Vietnam, for the production of high-quality tissue grades made of either 100% virgin or 100% deinked pulp (DIP).
The new tissue machine has a design speed of 1,300 meters per minute and a paper width of 2.85 meters. The scope of supply includes a separate DIP line, a stock preparation system for LBKP/NBKP market pulp, an approach flow system, a fiber recovery and broke handling system as well as basic and detail engineering.
The entire line is equipped with an ANDRITZ PrimeControl automation package and an advanced Multi Motor Drive system.
According to ANDRITZ, market pulp bales are dissolved in a FibreSolve FSV pulper that enables efficient slushing without damaging the fibers. The system is split into a short and a long fiber line and is equipped with a Papillon refiner with a cylindrical refining zone for long fiber refining. The special geometry combines gentle and homogeneous fiber treatment. Thanks to the compact rotor design, the refiner concept offers significant improvements in energy consumption compared to competing refiners in similar applications.
The 2-loop DIP line will allow Xuan Mai Paper greater flexibility in raw material composition, resulting in lower production costs. The system consists of a drum pulper, two flotation units, one dispersing and screening/cleaning system as well as sludge handling. The FibreFlow Drum pulper disintegrates MOW/SOP with a minimum loss of fibers and removes most of the impurities right at the beginning of the line to reduce the workload of downstream equipment. The ANDRITZ SelectaFlot units are equipped with next-generation, energy-saving injectors.
The PrimeLineECO tissue machine is a new machine extending ANDRITZ's product portfolio, focusing on emerging markets and their need for energy savings: The combination of a 15 ft. steel Yankee with a special steam-heated hood by ANDRITZ Novimpianti enables highly efficient drying with substantial energy savings. The specific hood design, proven and optimized with CFD-analysis and comprising optimized nozzle geometry, results in highly consistent and efficient drying performance.
ANDRITZ will also deliver 58 process pumps for water and pulp — single-stage centrifugal ACP series pumps and medium-consistency pumps. Depending on their application, the pumps achieve heads of up to 80 meters and flow rates up to 7,440 liters per minute. The pumps convey pulp with up to 4.5 percent b.d. consistency.
Start-up is scheduled for the second quarter of 2020.
ANDRITZ Pulp & Paper is a global supplier of equipment, systems and services for the production and processing of all types of pulps, paper, tissue, and board. To learn more, please visit: www.andritz.com
SOURCE: ANDRITZ