Kruger Products Breaks Ground for Its New Tissue Plant in Sherbrooke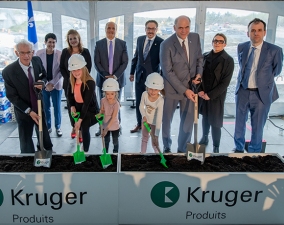 May 15, 2019 - KP Tissue Inc. and Kruger Products L.P. on May 13 dedicated the construction site of their future Sherbrooke (Quebec, Canada) tissue plant with an official ground-breaking ceremony in the presence of company executives and regional dignitaries.
Located in the borough of Brompton, the new plant will be constructed on a site adjacent to an existing Kruger paper mill along the Saint-François River. This $575-million investment will feature a through-air-dry (TAD) tissue machine and include converting lines.
Kruger first announced the project in August of 2018.
Ultimately, the plant will manufacture approximately 70,000 metric tonnes a year of ultra-premium bathroom tissue and paper towels under the Cashmere®, SpongeTowels® and Purex® brands.
"We are very proud to strengthen Kruger Products' presence in Québec with this large-scale project that will provide significant benefits to the Estrie region. What's even more exciting is that the local know-how will shine across North America with products distributed throughout Canada and in the United States," said Dino Bianco, Chief Operating Officer of Kruger Products.
Founded in 1904, Kruger Inc. is a major producer of tissue products; 100% recycled containerboard products; corrugated packaging; publication papers; specialty papers; renewable energy; cellulosic biomaterials; and wines and spirits. To learn more, please visit www.kruger.com.
SOURCE: Kruger Inc.
Go to a related story on PaperAge.com:
» Kruger Products to Invest $575 Million to Build New Tissue Plant - Aug. 17, 2018.