AF&PA President Donna Harman Honored with Bryce Harlow Foundation Business-Government Relations Award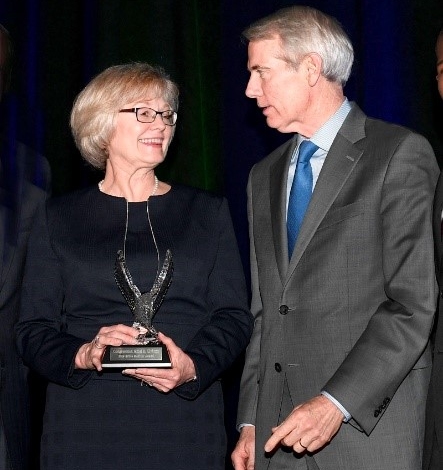 Donna Harman, President and CEO of the American Forest and Paper Association accepted the Bryce Harlow Foundation Business-Government Relations Award from U.S. Senator Rob Portman.
May 3, 2019 - U.S. Senator Rob Portman (R-OH) honored American Forest & Paper Association (AF&PA) President and CEO Donna Harman with the Bryce Harlow Foundation Business-Government Relations Award in recognition of her exemplary career in government advocacy at the organization's annual awards dinner at the Mariott Marquis in Washington, DC on May 1.
As family, colleagues and friends looked on, Harman accepted the award and reflected on her career, saying "I came to Washington, D.C. at the start of my career because I wanted to help solve problems. I have been blessed with incredible mentors and numerous professional colleagues and friends from whom I will never stop learning. Democracy cannot survive without an active and engaged public, including the interests of business. I am truly honored and humbled to receive this award recognizing the importance of integrity in government advocacy and increasing the understanding of its importance in sound public policy."
Rep. Cathy McMorris Rodger (R-WA), National Association of Manufacturers President & CEO Jay Timmons, American Council of Life Insurers President & CEO Susan Neely, International Paper Vice President of Global Government Relations Chris Keuleman and Sen. Debbie Stabenow (D-MI) offered their congratulations in a video tribute that can be viewed here.
Portman, Bryce Harlow Board Chair and Holland and Knight Partner Rich Gold and Bryce Harlow Board of Governors Member and Fierce Government Relations President Kirk Blalock, remarked on Harman's exceptional leadership.
"I first met Donna when I was a member of the House Ways & Means Committee, and she has been a friend ever since. She always advocates in the way I respect most: with facts, knowledge, and data. I was proud to work with her on a host of important issues, including tax reform, trade, regulatory relief, and more. Congratulations Donna on this great honor," said Portman.
Gold noted, "When you look at what it takes to reach the upper echelons of public policy making in Washington, very few people have been able to achieve what Donna has. Her career on the Hill and in the private sector is filled with significant policy achievements, all done with dignity, top notch lobbying, and her ability to connect with people. Donna developed her legislative and policy track record while shattering numerous glass ceilings along the way. She has not only been an example for many young women interested in public policy, but for many men, including me, on how to create and nurture a workplace culture where people are judged on their skills and teamwork, not on their gender."
Donna Harman with her family: John Harman, Donna, Caitlin Harman Allen, Callie Harman and Bryant Robinson.
Blalock said, "Donna exemplifies the spirit of the Bryce Harlow Foundation Award. She herself is dedicated to advancing the integrity of government advocacy and increasing understanding of its important role in the development of sound public policy. Donna's career has proven you can do both. I'm so honored to have worked closely with her for the past 20 years and very proud she has been recognized with this prestigious award for her contributions to the industry and our profession."
Harman, who announced her retirement in January of this year and will serve as AF&PA President and CEO until a successor is in place, has served in that position for 12 years and previously was the association's senior vice president of policy and government affairs. Prior to AF&PA, she worked in government affairs for the Champion International Corporation and The Dow Chemical Company after serving as legislative assistant in the United States Congress. Born in Elkhart Kansas, Harman earned a bachelor's degree in public affairs from Anderson University (Indiana) and a law degree from the American University.
The American Forest & Paper Association (AF&PA) serves to advance a sustainable U.S. pulp, paper, packaging, tissue and wood products manufacturing industry through fact-based public policy and marketplace advocacy. AF&PA member companies make products essential for everyday life from renewable and recyclable resources and are committed to continuous improvement through the industry's sustainability initiative — Better Practices, Better Planet 2020.
The forest products industry accounts for approximately four percent of the total U.S. manufacturing GDP, manufactures approximately $300 billion in products annually, and employs nearly 950,000 men and women. The industry meets a payroll of approximately $55 billion annually and is among the top 10 manufacturing sector employers in 45 states. Visit AF&PA online at www.afandpa.org or follow us on Twitter @ForestandPaper.
SOURCE: AF&PA