Resolute to Sell Former Port-Alfred Mill Site to City of Saguenay for One Dollar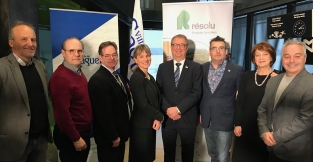 March 22, 2019 - The residents of Saguenay (Quebec) will gain access to an area of stunning natural beauty when the site of Resolute's former Port-Alfred mill is sold to the City of Saguenay for the symbolic amount of $1. The area, which measures approximately 0.3 square kilometers (0.1 square miles), features a dramatic landscape dominated by the awe-inspiring Saguenay Fjord (a narrow inlet bound by steep cliffs). The sale will be concluded later in 2019 and is contingent upon a promise from the City that the site will remain accessible to the public.
"We are pleased the Port-Alfred site will be transformed into a public space for residents of La Baie and the Saguenay region to enjoy year round," said Yves Laflamme, president and chief executive officer.
Josée Néron, mayor of Saguenay, added, "Our vision is clear: We want to develop a space for recreational use accessible to all citizens, while respecting our budgets and in collaboration with the community."
The sale represents a new chapter in the long history shared by Resolute and its predecessor companies with the people of the Saguenay region. The town of Port-Alfred was founded in 1918 and became home to the Port-Alfred Pulp & Paper Corporation in 1924. In 1976, Port-Alfred merged with neighboring Bagotville and Grande-Baie to form the City of La Baie, which, in turn, became part of the city of La Baie became part of the City of Saguenay in 2002.
Resolute Forest Products is a global leader in the forest products industry with a diverse range of products, including market pulp, tissue, wood products, newsprint and specialty papers, which are marketed in close to 70 countries. The company owns or operates some 40 manufacturing facilities, as well as power generation assets, in the United States and Canada. To learn more, please visit: www.resolutefp.com
SOURCE: Resolute Forest Products Inc.