White Birch Paper Closes Bear Island Newsprint Mill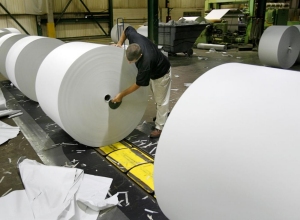 The Bear Island paper mill, located in Ashland, Virginia, had an annual capacity of approximately 240,000 metric tons per year of newsprint and employed just over 140 people.
March 11, 2019 (Richmond Times-Dispatch) - Less than a year after it reopened, the Bear Island newsprint manufacturing mill in northern Hanover County is once again being idled.
White Birch Paper Co., a Connecticut-based company that had restarted the mill last year after a previous shutdown in 2017, said Friday that it will cease production of newsprint at the plant effective immediately. The plant employs about 140 people.
White Birch sold the mill in July 2018 to Cascades Inc., a Canada-based maker of packaging and tissue products, that announced plans to invest about $275 million to make recycled paper products in the plant.
White Birch then leased the mill back from Cascades with the intention of making newsprint for two years before Cascades expects to take over the operations.
"The idea and attempt to keep the employees of Bear Island active through the mill's transition in ownership and grade production has come to an unfortunate and premature end," said Christopher Brant, president of White Birch Paper, in a statement released by the company Friday.
White Birch said it will turn over control of the plant to Cascades "in the coming months as it continues to plan for the potential conversion of the mill in the future."
Cascades still plans to start production of containerboard at the plant in 2021, said Hugo D'Amours, a spokesman for Cascades. That plan is contingent on final approval by the company's board of directors, which could happen later this year.
Some of the employees laid off by White Birch could be hired by Cascades, D'Amours said.
"It obviously would have been easier for us if the mill had run for a longer period and employees had remained on site for a longer period. We have people on site, and we will have people on site next week meeting with employees," he said. "We will evaluate what our needs are on site and we will try to keep the expertise needed.
"Obviously, we will not be able to keep all employees, but we will try to keep in contact with them and bring them back when the containerboard machine is on site."
The full story is available on the Richmond Times-Dispatch website:
» Bear Island newsprint manufacturing mill in northern Hanover County is being idled again.
SOURCE: Richmond Times-Dispatch
Go to a related story on PaperAge.com:
» Cascades Acquires White Birch Paper's Idled Bear Island Newsprint Mill in Virginia for $34.2 Million - July 26, 2018