Lindenmeyr Munroe's Bill Meany to Receive NPTA's 2019 Stanley O. Styles Industry Excellence Award at Paper2019 in Chicago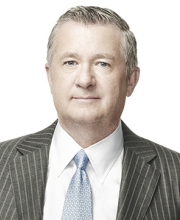 Bill Meany
March 4, 2019 - The National Paper Trade Association (NPTA) recently announced that William "Bill" Meany, President of Lindenmeyr Munroe, is the 2019 Stanley O. Styles Industry Excellence Award winner. The presentation of the prestigious award will take place at Paper2019 in Chicago, March 24-26.
"Mr. Meany's 40 years in the industry are marked by a standard of expertise, creative strategy, professionalism, leadership and dedication, all of which make him more than deserving of NPTA's highest honor," NPTA said in a written statement.
Mr. Meany began his career with the same company he serves today. After joining the sales team at Lindenmeyr Munroe in 1978, he held several decision-making roles before being appointed President in 2013. He's credited with the instrumental growth and success of Lindenmeyr Munroe, and is known as one to go the extra mile for the company and his colleagues.
Mr. Meany has devoted his life to the paper industry, serving in leadership and advisory positions for several paper-related organizations, including Chairman of NPTA's Paper Distribution Conference, Vice-Chairman of Two Sides North America and Chairman of the Merchant Advisory for both Sappi and Domtar. He currently serves as the Chairman of NPTA.
"I have had the pleasure of working with Bill for just over ten years. The combination of his business insights and straightforward yet social approach made him someone from which I've learned a great deal. Bill manages his business with the highest level of integrity, open and honest conversations, transparency and high energy to make things happen." — Julie Schertell, President, Fine Paper & Packaging, Neenah Inc.
"In addition to the contributions Bill has made to his own company, he has been a good steward of the paper industry. For many years he has been an active member of NPTA, serving the association in a variety of capacities such as aligning the initiatives of NPTA with the changing needs of the industry and breathing new life into the Emerging Leaders Network. His contributions have been truly exemplary." — Mike Graves, President and CEO, Midland Paper Packaging + Supplies
"Through all of the years, Bill has been a constant – professional, engaging, approachable and a true leader at Lindenmeyr Munroe. The employees have great admiration and respect for Bill, from the divisional managers to truck drivers and warehouse employees. He knows everybody's name and is greeted with a smile from employees that is genuine." — Ray Rabbitt, Director, Merchant & Printing Sales, International Paper
Donations to honor Mr. Meany can be made to the Paper and Plastics Education Research (PAPER) Foundation 2019 Scholarship Program. For more information on the annual scholarship program or NPTA, visit www.gonpta.com/paperscholarship.
To learn more the Paper2019 paper industry convention, please visit: www.Paper2019.com
The National Paper Trade Association, founded in 1903, is the association for the $50-plus billion paper distribution industry. The mission of NPTA is to actively support the success of member firms through the delivery of networking, education, advocacy and industry trends focused on the health of the paper distribution channel. To learn more, please visit www.goNPTA.com.
SOURCE: NPTA