UPM Appoints Bernd Eikens as Executive Vice President, UPM Biorefining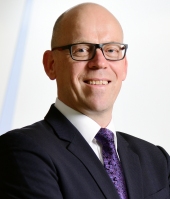 Bernd Eikens
Feb. 15, 2019 - UPM has appointed Bernd Eikens (53) as Executive Vice President responsible for UPM Biorefining, effective March 1, 2019. He will be based in Helsinki reporting to Jussi Pesonen, President and CEO.
Since 2016, Eikens has held the position of Executive Vice President, Specialty Papers and is a member of UPM's Executive Team. Prior to that, he was responsible for UPM's Communication Papers.
"Bernd has clear strategic insights and exceptionally broad and versatile international experience," said Pesonen. "I know him as a person of high integrity and his leadership track record in UPM is impressive. UPM Biorefining is in an interesting and exiting phase. With Bernd's input I'm sure the business area will further improve and develop its businesses."
Eikens joined UPM in 1988. He holds a Doctor's degree from Colorado State University and Master's degrees from Technical University of Darmstadt and Georgia Institute of Technology. He serves in the Board of Johan Bunte Bauunternehmung GmbH and in the Advisory Board of Meyer Turku Shipyard.
UPM Biorefining
UPM Biorefining consists of pulp, timber and biofuels businesses. UPM has three pulp mills in Finland and one mill and plantation operation in Uruguay. UPM operates four sawmills and one biorefinery in Finland. The main customers of UPM Biorefining are tissue, specialty paper and board producers in the pulp industry, fuel distributors in the biofuel industry and construction and joinery industries in the timber sector.
UPM delivers renewable and responsible solutions and innovate for a future beyond fossils across six business areas: UPM Biorefining, UPM Energy, UPM Raflatac, UPM Specialty Papers, UPM Communication Papers and UPM Plywood. To learn more, please visit: www.upm.com
SOURCE: UPM