Boise Paper Announces Price Increase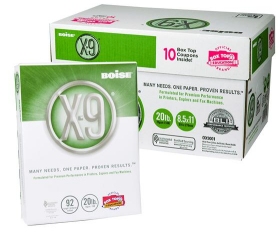 Jan. 30, 2019 - Boise Paper will raise prices by up to 7% on private label and branded office papers, printing papers, and converting papers effective with shipments March 1, 2019.
X-9®
ASPEN®
Boise POLARIS®
FIREWORX®
Essential Copy®, Essential Recycled Copy®, and Essential Bright Copy®
Boise® Copy
Xerographic Paper (rolls and sheets)
Boise® Offset
Boise® ASPEN® Offset and Envelope
Boise® Opaque
Boise® White Wove Envelope
All other converting products
All corresponding private label products
Boise Paper, a division of Packaging Corporation of America (PCA), offers a full line of premium printing and copying papers for the office and home. To learn more, please visit: www.boisepaper.com.
Midland Paper, Packaging + Supplies is one of the largest independently-owned fine paper and packaging distributors in the U.S. To learn more, please visit: www.midlandpaper.com.
SOURCE: Midland Paper, Packaging + Supplies